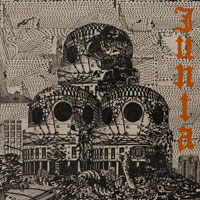 JUNTA "Dystopolis" MC/12"

A stack of bricks thrown at the establishment....
#51 UNARM "The voice from forced silence" E.P.

Tokyo peace crust mangel madness
4 tracks recorded at Noise Room. Released on tape for the Scandinavian tour now put on vinyl...
plans:
PLANET Y 12"
THE WAR GOES ON 12"
+ more punk nonsense...