Toldermania: HÅRDA TIDER (swe) – NATURAL FUN – JUNTA etc etc
September 24 @ 17:00

-

23:55
Event Navigation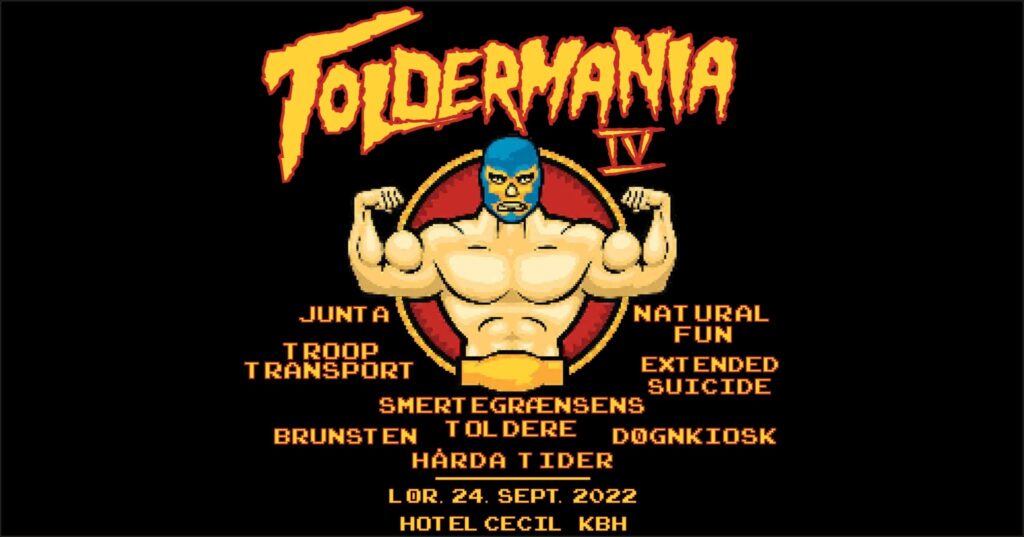 SMERTEGRÆNSENS TOLDERE (Aarhus)
Ingen Toldermania uden Smertegrænsens Toldere! De leverer hurtig og kontant hardcore punk og arbejder i skrivende stund på en ny plade op til koncerten på Hotel Cecil.
HÅRDA TIDER (Malmö)
Svensk DIY-punk og hardcore, dannet i 2007: "still doing the only thing kinda know how to do; play the fucking songs!"
BRUNSTEN (Jylland)
Noiserock-bandet Brunsten består af tre veteraner inden for aarhusiansk og aalborgensisk punk, sludge og noise/avantgarde med rødder i grupper som Fossils, Sons Of Cain, Emenkaya, Cola Freaks, Double Space og Glamour Coma. De blev dannet i 2016 og har været dannet lige siden.
EXTENDED SUICIDE (Fyn)
Fra Odense og Malaga. Extended Suicide spiller kompromisløs hardcore skate punk med inspirationer fra klassisk HC punk, powerviolence, og black metal æstetik. Aktive og brutale siden 2011.
JUNTA (kbh)
Junta er en trio fra København, der spiller rå hardcore punk. De har spillet sammen i seks år og har en stak vinyl- og kassette-udgivelser bag sig. De har turneret EU og Sydamerika.
TROOP TRANSPORT (Aarhus)
Højt, hurtigt og med max 4 akkorder. Straight up aggro-punk fra cremen af Aarhus' ungdom.
DØGNKIOSK
Døgnkiosk spiller Pop-punk med fokus på det enkle og umiddelbare udtryk. Hvis det lyder godt, er Døgnkiosk ikke bange for at spille det igen og igen. Der synges på dansk og med fokus på et tekstunivers der ord for ord, står ligeså knivskarpt, som musikken gør tone for tone.
NATURAL FUN (kbh)
NATURAL: adjective BrE /ˈnætʃrəl/ ; NAmE /ˈnætʃrəl/ [only before noun] existing in nature; not made or caused by humans. FUN: noun /fʌn/ /fʌn/ [uncountable] the feeling of enjoying yourself; activities that you enjoy
Natural Fun er KBH hardcore med tunge briller og høje pander. Kort, melodisk og aggressivt.